It might not be July anymore, but that's no reason not to wear red, white, and blue.
At least that's true if you're a superhero. Follwing up July 4th's post, here is
Miss Victory
with two more stories.
First up, strannik01 has posted a story from
Captain Aero #9
. Check it out, if only to see the
sheer glee
on Miss V's face as she beats up the bad guys. While you're there you can admire the gaping plot holes this story has.
Now from Captain Aero #15...
Read smaller scans in the post on scans_daily or read it in HQ page by page below.
09 // 10// 11 // 12 // 13 //14 // 15
Believe it to not, Nazi Gorillas are more common in comics than you might think. I may even have to do a post on them.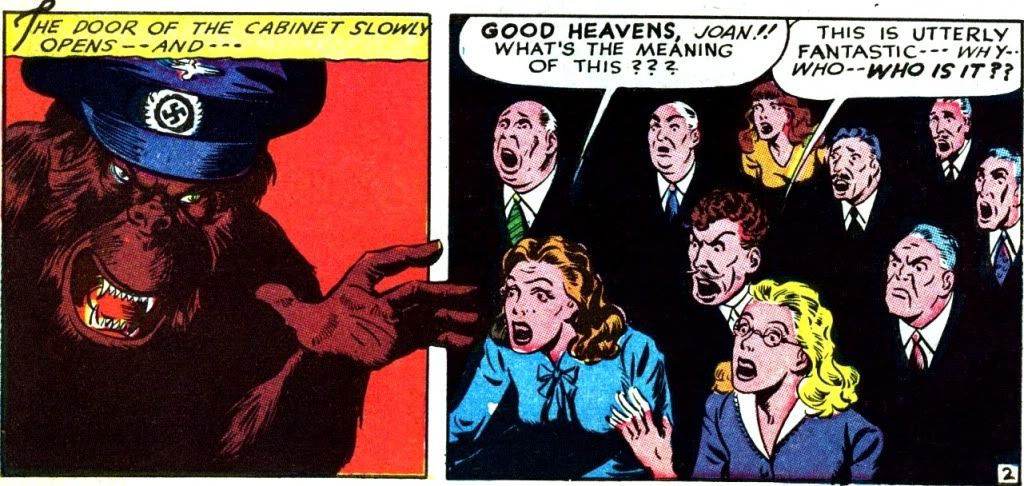 More Links...
UPDATES
I was asked on another site about it, so I'll address it here too. Original scans of Veri Best Sure Fire Comics #1 are available via digitalcomicmuseum. I had the scans of the reprints, so I used those. You can go see it in all its original glory. She also appeared in Holyoke One-Shot #5 in a reprint from Captain Fearless #2.
I've updated the Betty Bates, Lady at Law page. You can now read the story again!